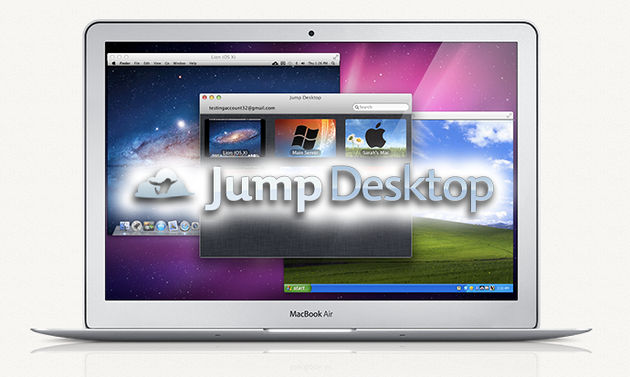 Remotely Access Your Computer w/ Jump Desktop
by Phase Five Systems
Connect to Any Computer in the World w/ Your Mac
Description
Access Any Computer From Anywhere
Whether you need to manage server farms, travel frequently, or simply own multiple computers, Jump Desktop is a remote desktop application that lets you securely connect to any computer in the world. Using a computer, iOS, or Android device with Jump Desktop you'll have COMPLETE access to your
apps
and
files
on any other computer from
wherever you are
. Jump Desktop is your solution to staying connected to ALL of your devices while you're out on the road, in a plane, or simply down the street.
How It Works
Install Jump on your Mac then configure the computers you want to control using
Jump's super-easy automatic
setup steps. Thats it! You'll be able to access your computers as long as you have internet access. Already have Windows Remote Desktop (RDP) or VNC configured on the computer you want to control? No problem - just enter it's address into Jump and you're done!
Top Features
Easy Setup
Jump Desktop is very easy to configure; anyone can do it! You'll be up and running in no time.
Secure
Jump encrypts the connection between computers to ensure privacy and security. Automatic connections are always encrypted by default. Supports NLA, TLS/SSL encryption for RDP. SSH Tunnelling and SSL/TLS encryption for VNC.
Supercharged Productivity
Use Mac keyboard shortcuts in Windows. Seamlessly switch between computers without changing the way you use the keyboard. Vastly improves productivity. Fully customizable: Configure your own shortcuts or use the built-in defaults. No other app comes close.
Live Previews
Connect to as many computers as you want. Monitor all sessions at once with Live Preview. Filter computers by keyword or connection details using live search.
Super Fast & Beautiful
Powered by one of the fastest VNC and RDP engines on the planet. Multi-core, hardware accelerated rendering for zippy performance. Optimized for MacBook Pros with Retina display.
Built on Open Standards
Jump Desktop is a true RDP and VNC client. You don't need to download additional software to connect to your machine if you already have RDP or VNC configured. Just enter your IP address or hostname to connect.
IMPORTANT NOTICE:
Audio streaming and remote printing are NOT supported when connecting to Mac OS X and PCs running Windows 'Home' edition.
Technical Features
Multi-protocol: supports RDP and VNC
Full international keyboard support for RDP, VNC and ARD
Dictation support (Mountain Lion and later)
3 different ways to zoom and pan the remote screen (really useful when controlling multi-monitor remote systems from laptops)
Easy and secure setup: Automatically configure your PC or Mac for remote access without worrying about your router settings. Set up as many computers as you like and manage them all using your Google account (optional)
Built-in SSH tunneling for RDP and VNC connections
System Requirements
Requires Mac OS X 10.6 or later
Languages
Terms
30 day refund policy
Downloadable upon purchase
Once purchased please follow the redemption instructions to redeem your Mac application
License is valid for one computer
Requires Mac OS X 10.6 or later