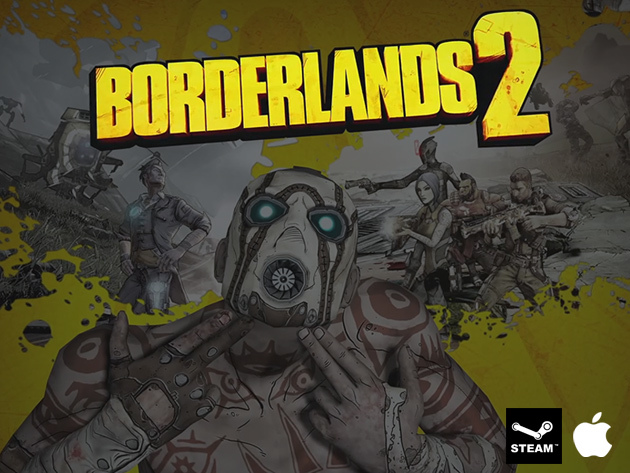 by Aspyr
Fight Your Way Across A Whole New World
Description
PURE, UNADULTERATED, SHOOT-EM UP FUN
Return to the
bizarre and unpredictable
planet of Pandora in Borderlands 2. Left for dead in the frozen tundra, you
begin your quest of revenge and redemption
as you make your way towards the evil Hyperion Corporation and its diabolical founder, Handsome Jack. A true role playing first person shooter, you can
embark on campaigns solo
, or
invite three friends
to
join you in the mayhem
that is sure to ensue. With
millions (literally, millions)
of weapons to arm yourself with,
four new character classes
to choose from, brand
new environments
to explore, and a whole slew of
freakish enemies
to face - you might not see a reason to go outside for a while.
WHY YOU'LL LOVE IT
We won't lie to you, this game is just
pure, unadulterated, shoot-em-up fun
that's wrapped in an absurd, colorful, and interactive package. Add to that
four-player online and co-op goodness
, and you have an addictive game everyone can love. Not
literally
everyone, because this game does involve
a ton of gore, violence, sex, drugs, and suggestive language
- but hey, that's also part of what makes it
so
good. With a visually stunning array of
whimsically destructive guns, shields, grenades and artifacts
- there is no shortage of ways to
level up
your character,
boost
your personal armory, and advance the surprisingly
well crafted
story (albeit absurd and with a fair share of 'slapstick' humor).
TOP FEATURES
All-New Characters and Classes: Four all new classes, the Siren, the Commando, the Gunzerker and the Assassin.
Play Online with Friends: Share your adventures with friends on both Mac and PC, drop in and drop out of a campaign without ever having to restart the game.
Revamped Gun System: Millions upon millions of possible weapons. Fire, electricity, corrosive acid, and more are at your disposal.
87 Bazillion...Everything: Procedurally generated shields, grenades, alien artifacts, class mods and much, much more.
Brand New Environments: From the arctic tundra, through the dangerous grasslands, past the mysterious corrosive caverns and beyond, there's more of Pandora to discover than ever before.
Brand New Enemies: Get ready to use that arsenal to shoot, burn, vaporize, and electrocute gorilla-like Bullymongs, vicious Stalkers, the Hyperion mechanical army, and hordes of other creatures.
THE PROOF
Metacritic Score: 89/100
"Prepare to level. Prepare to loot. Prepare to get lost in the hilarious, bizarre and wonderful world of Pandora." - (9/10)
IGN
"Borderlands 2 stands out as Gearbox's magnum opus, and one of the most memorable and fun gaming rides I've ever been on." - (4.5/5)
GameSpy
"This is the game, and it makes Borderlands persistently fresh in a way other shooters never are. " - (90/100)
PC Gamer
WHAT YOU'LL NEED
Operating System: Mac OS X 10.7.5 and higher (supports Mavericks)
CPU Processor: Intel Core 2 Duo (Dual-Core)
CPU Speed: 2.2GHz
Memory: 4 GB RAM
Hard Disk Space: 13 GB
Video Card (ATI): Radeon HD 2600
Video Card (NVidia): Geforce 8800
Video Memory (VRam): 256 MB
Peripherals: Macintosh mouse and keyboard, Xbox Wired, PS3 DualShock 3, and PS4 DualShock 4 controllers are supported
Languages (Full audio, text, and subtitles): English, French, Italian, German and Spanish
Terms
7 day refund policy
Upon purchase you'll receive a Steam code to redeem your game
Available for download upon purchase
If you haven't already, you must download Steam (free) to activate and play your game
English only