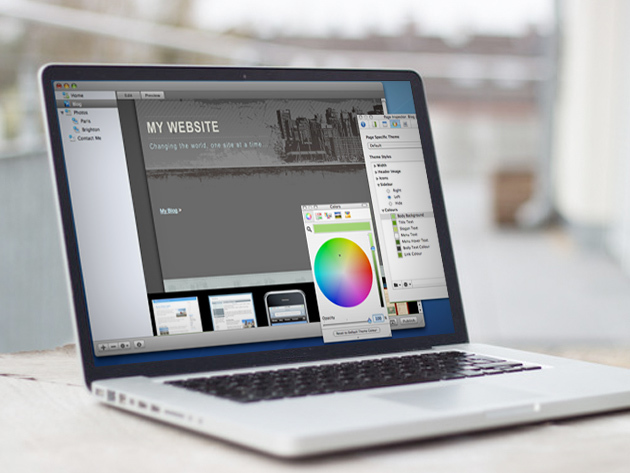 Create Powerful Websites With RapidWeaver 5
by Realmac Software
Build Beautiful Websites & Get the Nobility Theme to Get You Started
Description
FEEL THE POWER
Have you ever wanted to build an amazingly beautiful and fully functional website without having to go through the tedious process of coding it yourself? Enter RapidWeaver 5, the software that makes it
ridiculously easy
to create stunning websites on your Mac.
Whether you're building your very first website or your fiftieth, RapidWeaver provides you with the know-how to QUICKLY publish websites to be proud of.
No matter what you want to build
– be it stunning online photo-slideshows straight from your iPhoto library, a company website, or your own blog –
RapidWeaver lets you do it without the headache.
WHY YOU'LL LOVE IT
Even if you have experience building websites, starting from scratch is still a drag.
RapidWeaver comes with 11 built-in page types and includes 45 pre-made themes, so you can start working from the get-go – all without needing to know a line of code
or worrying about site design.
And it's not just creation that's streamlined, publishing is a breeze too.
With
built-in support for FTP & SFTP uploads
(used by almost every webhost around) you'll be able to publish your site in no time.
TOP FEATURES
11 Built-In Plugins - RapidWeaver comes leaded with 11 page types that can be added to your next site, from blogs to photo albums
Over 45 Themes Built-in - There's a theme for everyone with almost four-dozen customizable themes to choose from
+6 All-New Themes - All from world-renowned designers, to help your sites stand out
Easy Publishing - RapidWeaver uploads your site using FTP and SFTP, which are supported by almost every host on the planet
One Click Publishing - Making changes to your site is easy: with one click, RapidWeaver exports and uploads all the changes made to your website
Navigation Automation - RapidWeaver automatically creates the navigation menu for you: and tracks when you change any page names to ensure there's no broken links
Web Developer Tools - If you need to analyze your RapidWeaver pages, the Safari Web Developer Tools are now available when you preview your pages
Statistics - GoSquared LiveStats and Google Analytics support make it easier than ever to track who visits your site
Automatically Create Sitemaps - A new dedicated plugin generates HTML and XML sitemaps for your website so visitors will always be able to find the page they're looking for
THE PROOF
"RapidWeaver is a great piece of Mac web design software... Invest a little time with the RapidWeaver user's manual, and soon you'll be well on your way designing a fantastic website for yourself, your family or your business." - (8.8/10)
TopTenReviews
"Realmac's RapidWeaver 5.1 strikes a winning balance between power and ease of use. It's a compelling option for people looking to quickly create attractive Web sites with modern features." - (4/5)
MacWorld
WHAT YOU'LL NEED
OS: Mac OS X 10.6.8 or higher
LICENSE DETAILS
How many computers can you activate software with? - 1
When does license need to be redeemed by? - Anytime
Does it include updates? - Yes, all minor updates
Terms
30 day refund policy
Products are downloadable
You'll receive a license code to activate your software
Valid for full license to RapidWeaver 5
Valid for the full license to Realmac's Nobility Theme
Valid for all minor upgrades
System Requirements:
OS X 10.5.8 or newer required