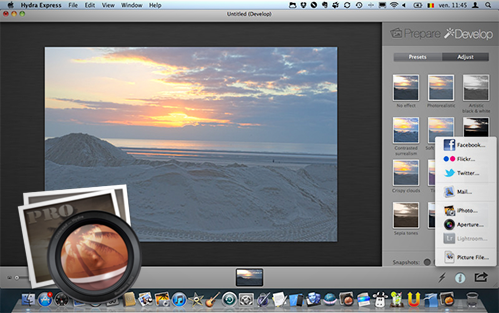 by Creaceed
A Powerful Mac App For All Photography Lovers Looking to Enhance Their Photos
Description
Magically Turn Your Photos Into Highly Dynamic Images With The Click of a Button!
Do you take a lot of digital images? Do you like photography? Have you ever wanted to get into the creative art? Now is your chance because with this INTUITIVE Mac app you'll be able to impress the world with your
beautiful
photos and for
ONLY $50
you can't go wrong.
What is Hydra Pro?
Hydra Pro provides human eye-like perception to your photographs by allowing you to create High Dynamic Range (HDR) images from a series of regular photographs (up to 7), either from DSLRs or traditional point-and-shoot cameras.
This killer app doesn't require pictures to be taken with a tripod, as it is usually the case with HDR software. The unique powers of Hydra Pro means you can take photos anywhere without a tripod to later merge them with the magical software.
What Users Are Saying About it?
"An easy, simple, almost self-explanatory interface. If you can handle iPhoto, you can handle Hydra. You also get output photos with stunning richness, the whole reason to add higher dynamic range to a photo. The end result is photos which look more like the photos you used to envy but now show up on your Mac as your own creation." -
Alexis Kayhill from Mac360
"If you're comfortable with iPhoto, you will feel at home in Creaceed's Hydra. From the app's icon to the user interface, Hydra feels very much like a native Mac app. Creaceed only produces products for OS X and iOS, and it show in the little details." -
Beau Colburn of Macworld
The Magic Behind Hydra Pro:
Hydra uses an ADVANCED image processing pipeline that first aligns the imported images and then merges them in a smart way to preserve the interesting inputs of each image.
This allows you to fine-tune all parameters in real time while observing the changing result until you are satisfied, and then render the full resolution image (resolutions above 20 Mega Pixels supported) in
less than a minute
. The output produced by Hydra is much closer to what your eyes actually see.
Top Feature:
Powerful Tone Mapper
We developed a brand new tone mapper for Hydra 3 to make it much more powerful than the 3 tone mappers available in Hydra 2. This new tone mapper allows real-time previewing on full resolution for the best possible user experience. Moreover, it is fully user-controllable with easy to understand settings.
★ Differences with the Express Version
Following features that are only available in Hydra Pro:
Import up to 7 shots to create an HDR image (only 3 in the Express version)
Batch Processing
Probe-based adjustments: probes are used to select areas based on distance/color/brightness tolerance
Use Hydra Pro With Two Free Intuitive Plugins to Push Your Photography Limits:
Plug-in for Lightroom 3 & 4
Aperture 3
These two free plugins can be downloaded from Creaceed's website and give your software even more intuitive features to enhance your photos. Last but not least, Hydra 3.0 introduces many new options: ghost handling, cropping, vignetting, batch processing, & tone mapping presets. Thanks to these pro options, you can preprocess and postprocess your photographs and get the result you are looking for. On a completely different note...be sure to enjoy your day ;).
Terms
No refunds
Product is downloadable
One license per customer
System Requirements:
Mac OS X 10.6.8 Snow Leopard or later
64-bit Architectures only
Minimum: 256 MB of VRAM (GPU)
Languages:
English, French, German and Italian