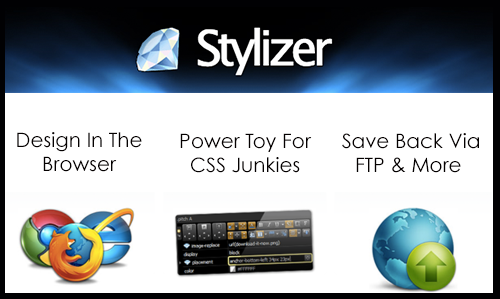 Make Real-Time Web Edits w/ Stylizer
by Skybound Software
Save Time & Money With This Intuitive CSS Web Editor
Description
A CSS EDITOR THAT HAS NO LIMITS
If you're a designer or developer hunting for a CSS editor that DOES IT ALL and is going to
save
you a boat load of time then good luck finding something better on the market. The REAL-TIME editing capability allows you to edit your pages FASTER THAN EVER and will literally help you SAVE
hundreds of hours
in the course of a year playing around with your style sheets. Don't believe us? See the proof below...
WHY WE LOVE IT
Stylizer is part web browser, part CSS editor, and part LIFE CHANGER. Just type in the address of any CSS-based web page, and start editing right inside the browser. Or, load an HTML page from your computer and do the same. This app screams simplicity and power so if you've been looking for a CSS editor that will make your life easier, search no more.
TOP FEATURES
Review In 12 Integrated Browsers
Stylizer's real-time CSS development extends to 12 different integrated web browsers. On Windows, Google Chrome, Internet Explorer 6, 7 & 8, and Firefox 2.0, 3.0, 3.5, 3.6 are supported. On Mac, Safari is supported.
Bullseye
With Bullseye, you're able to point to an element on your web page and make visual changes to CSS rules that directly affect it, right in the style sheet. Bullseye is such a critical part of the workflow that we've assigned it the largest key on the keyboard—the space bar.
Online CSS Editing
The Stylizer workflow couldn't be easier. Just open up the URL or the HTML page you want to edit, the style sheets are automatically extracted from the page, and you're ready to start making changes.
Full Keyboard Control
Stylizer was made to please the entire skill level spectrum. Whether you like point and click GUIs, or you're a hardcore hotkey aficionado with a long history in Emacs and have a personal collection of IBM Model M's, Stylizer is packed with the hotkeys and keyboard control features you need.
Powerful Color Selection Tools
Stylizer's color selection tools were designed for maximum efficiency. You can click on a color in your style sheet, adjust it, and preview your changes in real-time, all with only two mouse clicks.
THE PROOF
"Just get it. If your create web pages at any level, stop what your doing and get this application." -
Norm Clark
"I don't usually leave reviews. I know I should but I don't. However, this software was easier than ever and has saved me hours of time. I love this. This has made my life 1000 times easier. I would spend hours trying to find out how something was coded and now Stylizer has given me the best tool in the world. These guys know what they are doing and also should be working with the bigger companies like, adobe, etc. to make WYSWYG items. Fantastic!" -
Tony Rhoton
"Stylizer is a GREAT piece of software and its a GREAT price! Make CSS Editing easy as pie... love it!" -
Dennis Lauzi
"Very good tool to make productivity your friend :)." -
Malik Baba Aïssa
Plus, this software works with BOTH
Mac and Windows
(browser previews dependent on your operating system).
SYSTEM REQUIREMENTS & LANGUAGES
The Mac version will run as far back as Snow Leopard
The Windows will run as far back as Windows XP
Online CSS editing capability
Preview in 9 integrated browsers (Chrome, IE 6-8, & Firefox 2.0-3.6 on Windows, Safari on Mac)
English only
Terms
30 day refund policy
Software is downloadable
Upon purchase you must follow the redemption instructions located in your account to redeem and activate your software
Software includes all minor upgrades
Works with both Mac and PC (browser previews dependent on your operating system)
license is valid for one desktop and one laptop computer