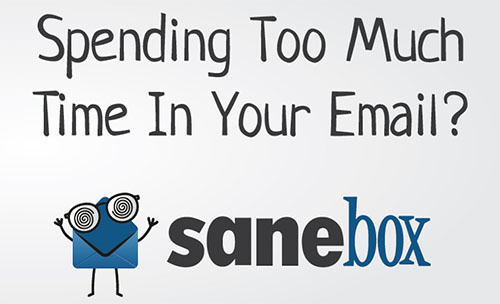 by Sanebox
Spend less time in your Inbox
Description
Sanebox helps you spend less time in your inbox.
Sanebox has whipped up
magical
algorithms to determine the importance of each email that makes it's way into your inbox, move unimportant messages out of your inbox into a separate folder, and then summarize them in a daily digest.
What is Sanebox?
SaneBox separates your most important emails from the ones that can wait, helping you
prioritize
the way you read your messages and saving you time and frustration. Plus, it works with any mail client you use, whether it's Microsoft Outlook, Apple Mail, Mozilla Thunderbird, Yahoo!, Gmail or some other service so you'll still be able to use the software you love.
Impressive?
We think so and is why we want to hook you up! Sign up to enjoy a free month trial to test out Sanebox's product, and receive a $14.85 credit towards an annual Sanebox subscription if you decide it's keeping your mail sane. That's three additional months of Sanebox for FREE!
Insanely easy
Sanebox doesn't require any training, there are no plug-ins or downloads, and it works on any email client and service. If you know how to use email folders, you know how to use SaneBox. You manage your email like you normally would. SaneBox keeps all important emails in your Inbox and automatically sends all unimportant ones to the SaneLater folder. You can easily check them at your leisure, and we also send you a daily SaneLater digest, so you never have to leave your Inbox.
Keep your sanity with Sanebox!
Other killer features that'll whip your email into the best shape of its life
Blackhole Unsubscribe - one-click-unsubscribe from people you hate getting emails from
One-Click defer power - defer non-urgent emails until later
Spam folder monitoring - it watches your spam folder for false positives, and fishes out emails caught there by mistake
Followup with RemindMe - Reminders when an email you sent was unanswered
Social network refinement - make you're inbox smarter by connecting to your social platforms
And much more
Sanebox won the "Best Gmail Add-On of 2011" on About.com, and their user base already includes lots of tech influencers.
Sanebox works with:
• Gmail • Yahoo Mail • Microsoft Outlook • Apple Mail • Mozilla Thunderbird • AOL • And more
Keep your mind SANE with Sanebox. Enjoy :).
Terms and Conditions
• How it'll work: click on FREE and you'll be sent straight to Sanebox's registration process. Once you finish there you will have ONE free month of use and if you decide you like it (which you will) you'll have a $14.85 credit. If you decide to purchase an annual membership, it will cost you only $40 which is 33% off the price of an annual membership! • A total of 4 Months free upon purchasing an annual membership for $40 (33% off annual membership) • Receive exceptional support help from Sanebox for the lifetime of your subscription
Terms
Unredeemed licenses can be returned for store credit within 30 days of purchase. Once your license is redeemed, all sales are final.