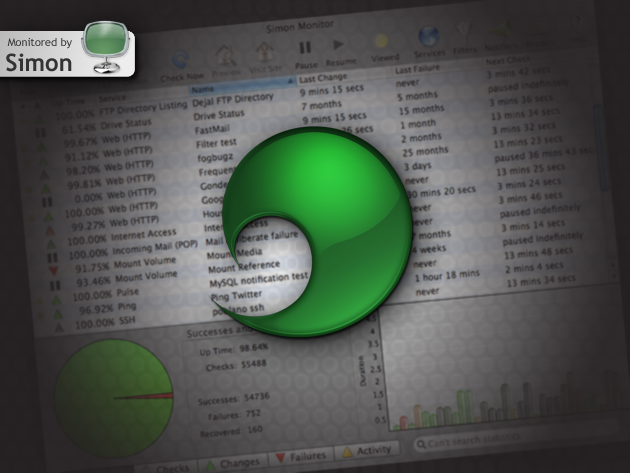 Simon For Mac - Bronze Edition
by Dejal Systems
A Customizable, Feature Rich Server Monitoring Solution
Description
Flexible, Comprehensive Server Monitoring
For administrators who need to keep track of multiple sites, servers, and applications, Simon is the tool to do it. With a beautiful and intuitive interface, the app displays everything you're tracking with key stats on uptime, time until next check, time since last change and failures - and even displays this info with graphs and lists when you drill down. After you've set your test parameters, Simon can notify you via Growl, speech, Twitter, email, and even text message whenever an update is available or a server goes down. Advanced users will enjoy extras like session capturing and multipage reports, but even less experienced users can quickly get up to speed with this flexible, reliable utility.
Why We Love It
Incredible versatility - monitor your websites, servers, and key applications, track posts and new comments on blogs, check for email and updates to news and entertainment sites, keep an eye on web auctions, and a variety of other uses. Create HTML reports that allow you to remotely view any summary of your monitoring. Save reports to a local web server, or upload them remotely. Customizable templates allow you to embed in a web page, view on PDAs and cellphones, create an RSS feed, and more.
User Reviews
"...a feature-rich tool that's ideal for Webmasters who need to monitor a variety of Internet services." -
Macworld
"Simon is full of nice touches and is a very polished package. The flexibility in setting up a variety of tests and customising the different notifications is simply amazing. And it is so easy to configure. The developer is also very helpful and responsive. This is by far the best software I have purchased this year (& maybe will be all year)." -
Make-Tracks Secure Hosting
"I currently manage 139 individual domains. Simon has been a god send. The previous version of Simon worked well. However, I have noticed a big jump in efficiency with monitoring over 130 domains at one time. You guys have a great product." -
Journal Communications, Inc.
"You now have a watchdog that lets you have a life again as a system administrator." -
macCompanion
Top Features
Version Updates
Powerful new filters, new activity log, redesigned editor windows, and much
MORE
Complete Site Monitoring Services
HTTP, DNS, FTP, MySQL, and SNMP support - see full feature list
HERE
Automatic Notifications
Get updates on your Mac Dock, iCal or Google Calendar, E-mail, Growl, MySQL, Text Message, Speech Message, Twitter, and even create your own custom notifiers with the Script or Port notifier plug-in
Supported Languages
English
French
German
Japanese
System Requirements
Terms
30 day money back guarantee
Upon purchase you must follow the redemption instructions in your account to redeem and activate your Simon software license
Valid for one (1) copy of the Simon Bronze Edition, which allows for 15 simultaneous test configurations