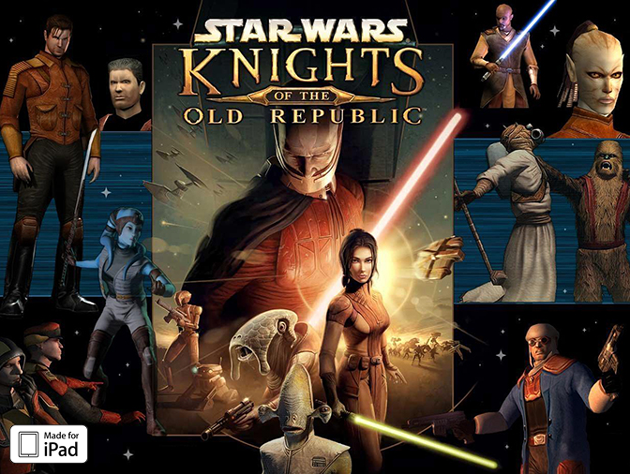 Star Wars: Knights of the Old Republic For iPad
by Aspyr
One of the Greatest Role-Playing Games of All Time
Description
THE GAME
We don't usually don't rep iOS games, but today is a different story -- especially when we get to showcase one of the most POPULAR iPad games on the market at 50% off! MAY THE FORCE BE WITH YOU & YOUR iPAD ;).
WHY WE LOVE IT
We're HUGE Star Wars® fans, so we couldn't be more excited about this one. Not only is this iPad game RARELY discounted, but now for a
very limited time
you can snag it for 50% off! With over 40 addicting powers, you'll be hooked into this wildly fun game before you beat the first level.
Gameplay Features
An epic Star Wars® role-playing experience with unique characters, creatures, vehicles and planets.
Learn to use the Force with over 40 different powers, plus build your own Lightsaber.
Adventure through iconic Star Wars locations, including Tatooine and the Wookiee homeworld of Kashyyyk.
Choose your party from nine customizable characters, including Twi'leks, Droids and Wookiees.
Travel to seven enormous worlds in your own starship, the Ebon Hawk.
A streamlined user interface, custom-made for the iPad's touch screen, helps immerse you in the action.
THE PROOF
"Aspyr has delivered a classic game in an expertly ported form. If you've never played Knights of the Old Republic, you're in for a treat." -
TUAW
"Aspyr has done a great job here, and delivered a truly classic experience to the iPad with gusto. Loading this one on to your iPad is worth every penny." -
Joystiq
"I had this game since it first came out on xBox original and when I found out I could get it for iPad, I flipped. I used to play the campaign over and over because it was so fun, and I'm so looking forward to doing it again!" - Michael Farrel "This is the best game on the iPad by far!!" - Harry Decker
SYSTEM REQUIREMENTS & LANGUAGES
This game requires iPad 2 or newer to run (iPad mini will also work)
A WiFi connection is required for download
Please ensure you have approximately 2.5 GB of storage space
Compatible with the iPad only
Requires iOS 6.0 or later
English only
Terms
Requires iPad 2 or newer to run (iPad mini will also work)
Requires iOS 6.0 or later
English only
Limit 1 per customer