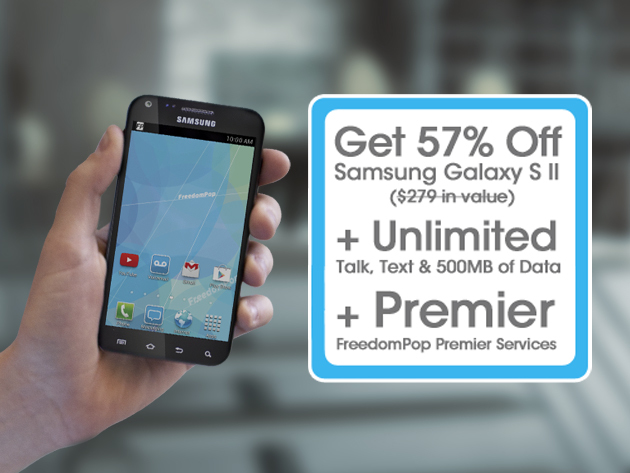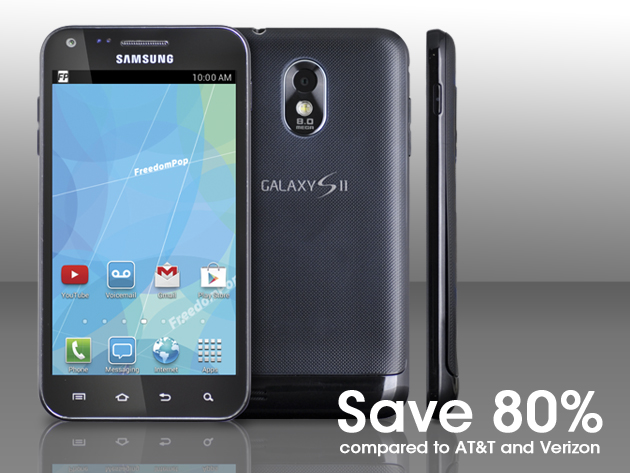 Save $1,500 Per Year w/The FreedomPop Samsung Galaxy SII Phone
by FreedomPop
Get 6 Months of Unlimited Talk & Text, & 500MB of 4G Data For Free
Description
IMPORTANT TERMS
Only available to continental US customers (excludes Alaska).
Sale price includes shipping and all sales are final.
Upon purchase, you must complete redemption instructions in your account to receive and activate your phone.
These are refurbished Samsung Galaxy SII phones.
FREE YOURSELF FROM ANNUAL CONTRACTS
Your wireless freedom starts here:
a best-selling smartphone primed with unlimited talk, text, 500MB of 4G/3G data every month, and FreedomPop Premier – for six (6) months
. The Samsung Galaxy SII might not be the hottest phone on the market right now, but it still has a 1.2 GHz Dual Core processor, crisp 4.52" screen, and dual cameras packed into an elegant design. Even though these phones are refurbished, they still work great.
WHY YOU'LL LOVE IT
FreedomPop is about just that, freedom from big wireless carriers and their binding contracts. They're eliminating the digital divide and disrupting the oligopoly of the Big Three. This phone and plan combo allows you to
make calls, send texts, and stay connected with everything in your life for one low cost
. If you're looking to save $1000 a year on your phone service, and you don't mind a couple dropped calls,
this is exactly what you've been looking for
.
PRICING
PHONE FEATURES
Six Months of Unlimited Talk, Text, 500MB of 4G/3G Data each month + FreedomPop Premier (see below)
Samsung Galaxy SII equipped with a huge 4.52" touch AMOLED display, 3G/4G speeds, and a sleek design
1.2 GHz Dual Core, Exynos, 1200 MHz processor
1GB RAM, and 16GB ROM with option to expand to 32GB with micro SD card
8MP color primary camera/camcorder with 2MP front camera
Bluetooth® v3.0 with A2DP, WiFi 802.11 b/g and WiMAX
Li-Ion 1800mAh rechargable battery
FREEDOMPOP PREMIER FEATURES
FreedomPop Data Rollover - Rollover your unused data and bank up to 20GB for use anytime
FreedomPop Visual Voicemail - Lets you access & manage your messages with a convenient visual interface
FreedomPop Pay As You Go Boost - Save 50% on your data when you go over your Basic 500MB plan limit
FreedomPop Premium VIP - Ensure uninterrupted internet with free modem replacement and VIP support
FreedomPop Usage Alerts - Prevent pay as you go charges before going over data limits with usage alerts
FreedomPop Online Security - Internet Security and antivirus protection for all your devices
SERVICE FEATURES
*Free Data* - With this promotion you get unlimited Talk, Text, and 500MB of data each month for six months on Sprint's Nationwide network
*Fast Speeds* - Enjoy 4G WiMAX speeds where coverage is available
*No Gimmicks* - Take advantage of no speed-throttling
*No Cancellation Fees* - Cancel anytime without early termination fees
*Social Broadband* - Get 500MB of additional 100% FREE monthly data when you refer your friends
IN THE BOX
Samsung Galaxy SII (refurbished) - Black
Quick Start Guide
Micro USB Cable and Wall Charger
IMPORTANT FAQ'S
For the quickest and best answers to your questions regarding this promotion, please contact FreedomPop directly by CLICKING HERE
. FreedomPop is powered by Sprint's Nationwide Network. The Samsung Galaxy SII featured here connects to Sprint's 4G WiMAX and 3G Networks - so when Sprint 4G isn't available, this will fall back to 3G.
Will there be additional charges beyond the $199? - There are only additional charges if you go over your 500MB 4G/3G data plan each month. Additional data can be purchased for 1.75 cents per MB.
Will my credit card be charged by FreedomPop upon activation? - No.
What happens after my first six months? - After your first six months, you can continue using FreedomPop's revolutionary smartphone service on their unlimited talk + text and 500MB of 4G/3G data for $10.99/month for another year.
Is there free data with this plan? - Yes, you get 500MB of 3G/4G data per month.
When does the plan activate, at purchase or upon receipt of device? - Service is activated on the date your device is shipped so that it arrives ready to go straight out of the box.
Is there an activation cost? - Nope.
Will this device work outside of the US? - No.
What does the coverage look like? - You can see the coverage HERE. Be sure to check Data on the top tab and then "Sprint 3G & more" for 3G coverage and "Sprint 4G (WiMAX)" from the right hand drop down to get the most accurate map.
Does this support roaming? - This supports "on-network roaming" as indicated on Sprint's 3G and 4G WiMAX coverage map.
Can't I just get this deal directly from FreedomPop at a better price? - No, the phone alone from FreedomPop retails at $279. They are not offering the phone plus six months of unlimited talk, text and 500MB of data anywhere else for only $199. In fact, unlimited talk, text and 500MB of data costs $10.99/ month through their website.
Do they still have a maintenance, non-usage or an inactivity fee of $0.99 each month? - Nope, they did away with this small fee back in early summer. You can read about it on their BLOG.
Does this work on Sprint's 4G LTE network? - No, this uses Sprint's 3G and 4G WiMAX network.
Do you charge more for 3G Data? - Not for this special promotion. You'll get 500MB of 4G and 3G Data for free each month. Each additional MB is 1.75 cents no matter if it is 3G or 4G.
Can I roll over my unused minutes, texts or data? - Rollover is included and available for data through this promo, but you already get unlimited talk and text!
Can I port over my Phone Number? - FreedomPop is still in a beta test period and porting has not been released in time for this special promotion.
What version of Android OS is on this phone? - Jelly Bean (Android 4.1.2)
Can this be updated to KitKat? Can I root this phone? - FreedomPop doesn't provide technical assistance in upgrading the operating system or rooting this phone. It is possible to update certain features to emulate KitKat, but additional research will have to be done to root it/make customizations.
Does this version of the Galaxy have NFC? - It does not.
Can the phone act as a hotspot? - Tethering is not available.
Where can I get more info? - You can view the FreedomPop FAQ HERE, call (888) 743-8107 M-F 9am-5pm PDT, or email stack@freedompop.com.
THE PROOF
FreedomPop has been featured in top publications like (click each for link):
Terms
No refunds, all sales are final.
90-day warranty by FreedomPop which includes exchanges for defective devices.
Promotion includes one (1) Samsung Galaxy SII (refurbished), six (6) months of unlimited talk and text, 500MB of high speed data per month, and six (6) months of FreedomPop Premier.
Only available to customers in the United States (excluding Alaska) and sale price includes shipping.
Please allow up to four (4) weeks for delivery.
Upon purchase, you must complete the redemption instructions in your account to complete your order.