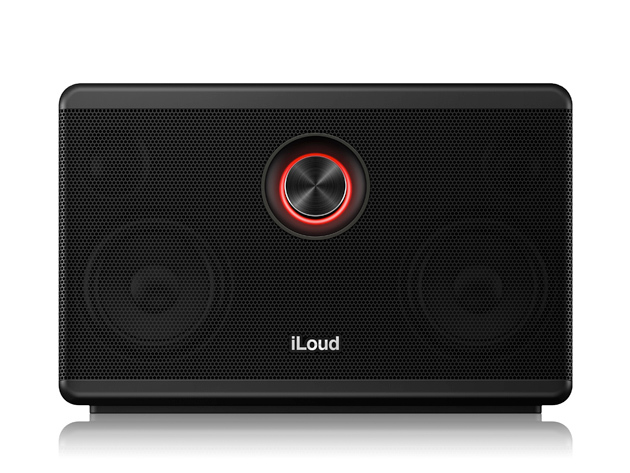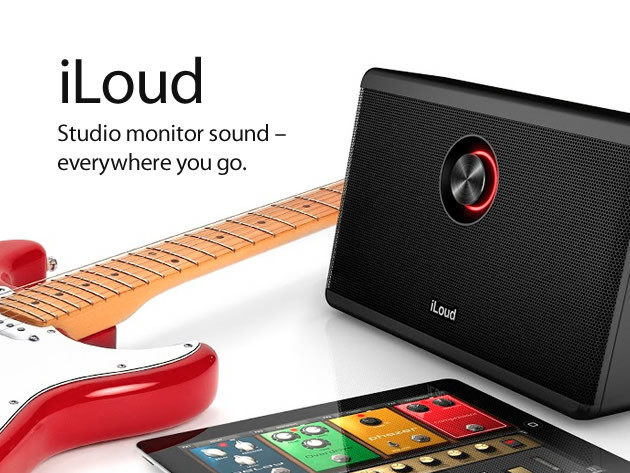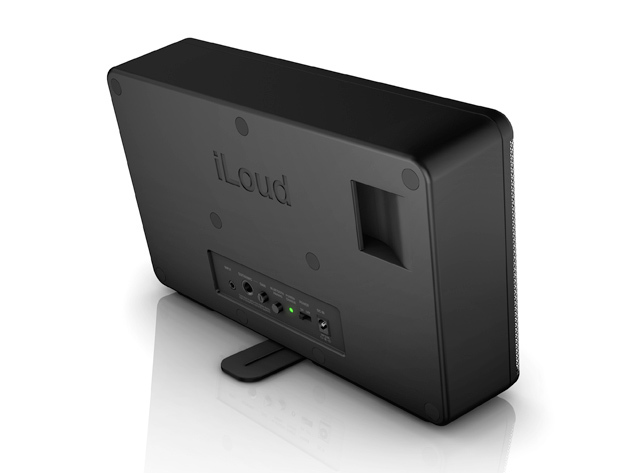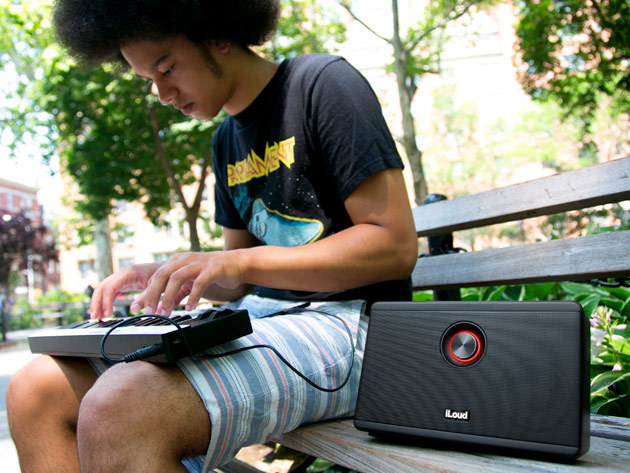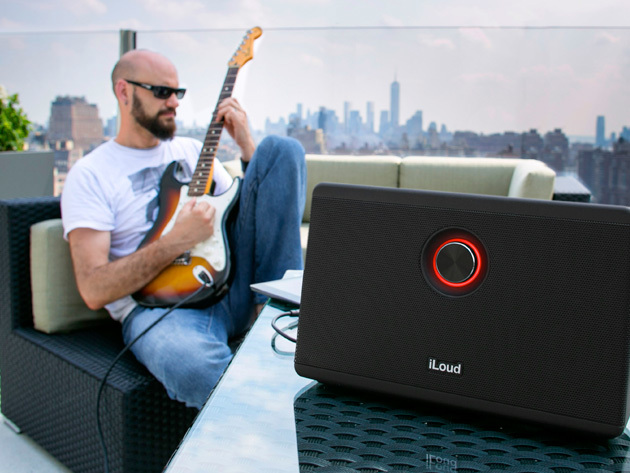 The iLoud Bluetooth Speaker
by IK Multimedia
A Portable Studio-Quality Music Expierence Designed for Audiophiles & Musicians
Description
Please note: Only available to customers in the continental United States. The sale price includes shipping.
THE GOODS
For the musician on the go, in the studio, or on the stage, the iLoud speaker is designed to meet all your mobile sound needs. iLoud is the first portable Bluetooth speaker designed with musicians and audiophiles in mind. It allows you to reproduce your music – in every possible mobile situation – as accurately as you would in the comfort of your studio. Plus, it offers a ¼" microphone/guitar input for use with iOS music creation apps, so you can record, edit, and perform all on-the-go. Pumped with 40 Watts of sonic power, iLoud sounds 2-3 times louder than comparable-sized speakers. Together with its high-power output, iLoud also delivers hi-fi sound thanks to its time-aligned 2-way system, precision custom neodymium loudspeakers, tuned bass-reflex, non-resonant enclosure and a high-end 24 bit DSP using IK Multimedia's proprietary processing algorithm to perfectly match the woofers with the tweeters. What does all that mean? That it provides a richer, more powerful sound for any type of music style from rock to hip-hop to electronic music that can't be found in any other portable speakers in its category. So grab your guitar and plug it into iLoud, plug in your mobile device, launch your favorite mobile app like AmpliTube or VocaLive and start jamming and recording. With a built-in iRig circuit for directly connecting a guitar or a dynamic microphone, you can take advantage of the real-time sound processing offered by your favorite mobile apps. And with its internal rechargeable speaker and 10+ hours listening time, you can rock out to your heart's content.
WHY WE LOVE IT
The guys at IK Multimedia have over 16 years of experience in the recording space, so they know a thing or two about capturing great sound. If that's not good enough, they stand behind each product they produce, individually testing every item before it ships to ensure it provides years of solid performance. If that's not enough, the iLoud is the first bi-amped portable speaker in its class, using a time-tested design usually found in much more expensive speaker systems, including four separate power amps, two for the woofers and two for the tweeters, and the precisely designed enclosure delivers an accurate, uncolored sound designed to perform like professional studio monitors, so it reproduces the sound the way it was originally recorded, not with exaggerated bass or boosted highs. All in all, there's no speaker like it on the market, it's practically a no-brainer if you use a laptop, iPhone, or iPad to make music.
TOP FEATURES
40 Watts of Beat-Crushing Power - Sound you can't miss with a 40W RMS bi-amped 4-way speaker + bass reflex port.
Connect In Seconds - Use Bluetooth or included 1/8" AUX inputs to connect your audio source.
10 Hours of Playtime - Rechargeable battery lasts 10 hours at moderate volumes.
Axe-Compatible - 1/4" mic/guitar input and IK's iRig circuit turn iLoud into a portable amp when used with iOS music creation apps.
Highly Portable - Easily stows in a laptop bag or a backpack.
THE PROOF
"... in a way, IK Multimedia is trying to pull off the impossible with the iLoud. For the most part, it does pretty well. Even though there are dozens of good Bluetooth wireless speakers out there, none of them do what the iLoud does... All told, the iLoud is already a solid buy for musicians on the go." -
PC Mag
"Not only is this an excellent tool for musicians, it's probably one of the best Bluetooth speakers I've ever used." -
MacMixing.com
"iLoud is the ideal speaker for musicians and audiophiles who demand an accurate reproduction of a wide range of musical styles from rock, hip-hop and electronic dance music, to more nuanced and sonically demanding genres like jazz, classical and acoustic." -
Examiner.com
COMPATIBILITY
Most Bluetooth®-enabled devices including iPhone, iPad, iPod touch, Android smartphones and tablets, and most Mac or PC computers.
Wired input for connecting an MP3 player or other non-Bluetooth device, using a standard 1/8" AUX cable (not included).
The iRig input works with iOS devices running AmpliTube, VocaLive or other audio-processing applications.
Note: you can't use the iLoud as a hands-free speakerphone. You also can't use it as a portable guitar or vocal amp without first hooking your iOS device up via the 3.5mm TRS input and running AmpliTube or VocalLive, at which point the iLoud will join the iOS device and instrument internally and play the resulting output.
IN THE BOX
One (1) iLoud speaker
Power supply
Power supply cable
TRRS audio cable (1m/3.3ft)
Quick start guide
Registration card
PRODUCT SPECS
40W total power (2x16W low-frequency, 2x4W high frequency).
Frequency response 50Hz to 20kHz.
Four Class-D Amplifiers, bi-amped system.
Two way 2x3" neodymium woofers & 2x3/4" neodymium tweeters.
High performance bass-reflex port.
1/4" iRig® input for connecting guitars and dynamic microphones to iOS devices.
Bluetooth compatible with A2DP protocol.
1/8" stereo analog line input.
DSP controlled.
Superior low-frequency extension and sound accuracy.
Auto Standby.
Integrated high-performance Li-Ion rechargeable battery.
Battery duration at maximum volume: up to three hours. Normal usage: up to ten hours.
Size: 250mm/9.84" x 160mm/6.3" x 60mm/2.36" (W x H x D)
Weight: 1,330g/46.91oz
Terms
30-day refund policy.
Promotion only available to customers in the Continental US.
Sale price includes shipping.
Please allow up to two (2) weeks for delivery.