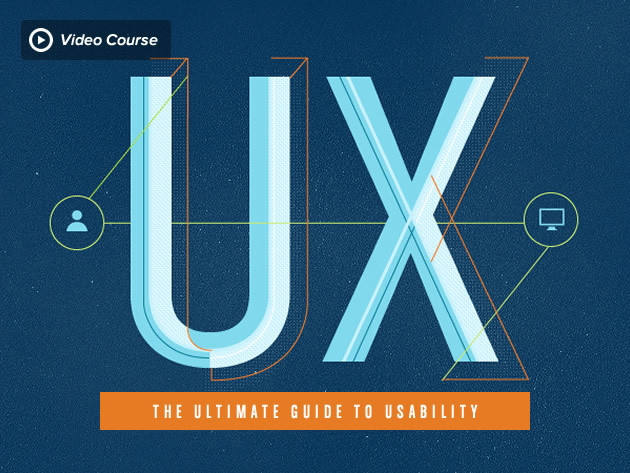 The Ultimate Guide to User Experience
by Dr. David Travis
Create Compelling Websites with This In-Depth UX Video Course
Description
CREATE WEBSITES YOUR USERS WILL LOVE
It doesn't matter if you're a business owner, marketer, designer, developer, or analyst - User Experience is one of the most important factors to your company's success. Your website is often the first interaction customers have with your brand; and effective UX can boost sales, bolster conversion rates, and improve customer satisfaction - so don't you owe it to yourself to know how to implement it? If you said yes, that's exactly what this course will teach you, so expect to get down and dirty with UX. That said, in this increasingly visual, internet-connected world, the benefits to understanding how to optimize your brand experience are invaluable.
WHY WE LOVE IT
Learn from one of the biggest names in UX consulting (not to mention a PhD in Psychology) to understand the principles and brand benefits of human-centered design. And you don't need a background in user experience, design, or development—you'll learn the ins and outs of UX optimization at your own pace. Thousands of students have attended the classroom version of this course, and this is the first time it's available online. But this isn't some bootlegged video version of the live lectures—all of the content has been re-written for online delivery, and the video lectures have been specially shot for the Udemy platform.
TOP FEATURES
Over 60 lectures and 10 hours of content
9 step-by-step chapters with video tutorials
Hands-on practice with personas, card-sorting, contextual inquiry, and heuristic evaluation
Describe design framework and usability metrics
Develop cheap, throwaway prototypes for user feedback
Discussion boards to answer your questions
Word document transcript of each lecture
Certificate of completion and eligibility for free, e-mail-based, refresher training.
GET CERTIFIED
Upon conclusion of the course, you'll receive a verifiable certificate of completion - perfect for bolstering your resume and adding legitimacy to your personal brand.
THE PROOF
"I took this course as a web application developer looking to learn some UX basics in an effort to bring in more User Experience design aspects to my work environment... the course exceeded my expectations... If you are thinking about taking a course in User Experience, this is the one. Dr. Travis answers questions promptly and provides a wealth of information in the form of external links, suggested readings and downloads. I would not hesitate to take another course from him." -
Alan H.
"This course goes beyond simply introducing usability related ideas. It puts everything into context: 1. it frames each concept and tool into an iterative user-centred design process, 2. describes the purpose it serves and 3. explains how it relates to previous and subsequent stages of the process... video lectures are peppered with a dash of humor here and there and some funny examples, which make ideas even easier to remember." -
Adrian K.
THE EXPERT - Dr. David Travis
With over 20 years of experience in the fields of human factors, usability, and user experience, Dr. David Travis has helped companies large and small create innovative customer experiences. Having earned a BSc and PhD in Psychology, he holds memberships with the British Psychological Society, the Experimental Psychology Society, the Information Architecture Institute and the User Experience Professionals Association.
COURSE REQUIREMENTS
An up-to-date computer with a fairly modern operating system
COURSE ACCESS
Get unlimited online access to this course
Available on any device with an internet connection at any time
Watch on the go on your iPad
WANT MORE INFO?
Click
HERE
to view this course on Udemy.com.
Terms
30-day money-back guarantee
Upon purchase, follow the redemption instructions (located in your account) to subscribe to your course
This course is licensed on a per-user basis
It may not be sold, redistributed, or given away in any shape or form