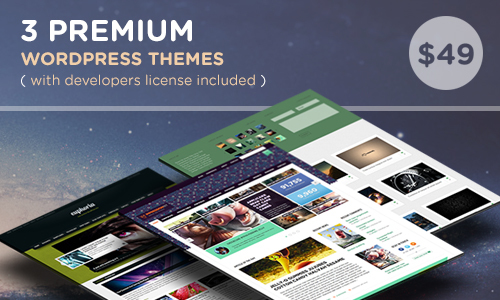 3 Premium WordPress Themes
by Rockable Themes
Sleek WP Themes With Developer Licenses From Rockable Themes
Description
3 Beautiful WP Themes Just For You.
If you're one that works with WP and has fun building new sites for family, friends, and/or yourself these
3 developer themes
will only better your options. They're sleek, clean, and have tons of sweet capabilities that will allow you to propel your imagination right onto the web. All of these themes come with a developers access and are created in xHTML and CSS valid code for the latest version of WordPress. The themes have a slick professional design, so changing your design won't even be necessary :).
Why We Love it
We pretty much live on the web and have played around with tons of different themes and WP sites so if you're like us you can never have too many high-quality themes. Here you're saving a bunch of money and you're getting some great themes. It's a win-win in our eyes.
Theme Details
Impressionist
Impressionist is a business based premium WordPress theme with a unique, impressive and weird look. It comes with two types of layouts – magazine and corporate, the framework gives you more power to customize the theme to suit all your needs, it is packed with tons of awesome custom widgets and custom features. This theme is developed with the business intention, but the custom page templates gives you the flexibility to adapt it and use it like a portfolio, magazine or even like a personal blog site. View more details about this theme
HERE
.
Briefcase Pro
Briefcase Pro is a portfolio based WordPress theme that could be used for a lot of purposes, beginning from a portfolio and gallery site and finishing to a blog and magazine one. It's minimalist design was special created to catch the attention of everyone. The theme have a lot of unique and useful options that helps you to set up the site in just minutes. View more details about this theme
HERE
.
Euphoria
Euphoria is a magazine style WordPress theme, this theme comes with a built in admin panel, that gives you the possibility to easy set up the theme according to your needs. Theme comes with 12 color schemes variations, a portfolio template, two different blog style templates, a nice and unique custom home page where you can add just the posts you want to be displayed like featured e.t.c. View more details about this theme
HERE
.
Theme Features
Admin Panel
Our themes come with an advanced Admin Panel, that contains a set of useful options and settings which extends the theme functionality.
Lifetime Support
Our clients will benefit lifetime support for all the purchased themes. We will be there to help you with any questions you will have while using our themes.
Pro Design & Code
The design we offer is a professional one, the implemented code being clean and optimized for each theme.
Documentation & Tutorials
You will have access to detailed documentation once you buy one of our themes. These will feature thorough description of all the functionalities and possibilities applied for the theme.
Theme Updater
Now with the integrated Theme Updater you will always be up to date with the newest version, all you need to do is to click one button and the updater will make his job.
Visual Code Updater
The post editor is enhanced with a built-in "visual" shortcodes generator, that helps you to handle the article content according to your preferences. PLEASE NOTE: these features relate to all three themes displayed above.
What's Included
A WP developer license theme package for the 3 themes shown above. These include: Impressionist, Briefcase Pro, and Euphoria.
Important Reminders!
No refunds
You'll be able to download your assets immediately after your purchase
All themes include a developer license
May not be resold or distributed
Terms
No refunds
You'll be able to download your assets immediately after your purchase
All themes include developer license
May not be resold or distributed