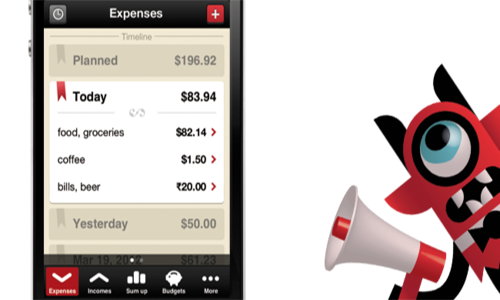 by Toshl, Inc.
Make Personal Finance Fun
Description
Are you having trouble managing your finances?
Toshl Finance Pro is your solution that'll kick your finances in shape and for only $10 it'll be worth it to have
1-year
of financial sanity. This
simple
and
intuitive
web-based application (and mobile app) is a personal financial assistant that, believe it or not makes finance fun. It helps you note down your expenses and income, and PLANS your finances with detailed budgets so you can be on-top of every penny. Moreover, you'll be able to download the mobile app which will make it a breeze when it comes to keeping track of all of your expenses. Your app will sync with your web-based software so it'll be updated with all of your devices. With Toshl by your side you'll reach that peace of mind that comes with knowing where your money is going. See how Toshl Pro looks on the web in this live demo:
Click here.
The Benefits:
★ Track Expenses, Incomes
Incredibly quick and easy to enter
Multiple custom tags
Repeating expenses
Repeating incomes
★ Budgets
Make it easy to save money
Compare the rate of your spending with the time of the month
Save money just on the items you don't want to be spending on
Budgets for all expenses, just for specific tags or all expenses except for specific tags
One-time budgets, daily, weekly, bi-weekly, monthly, yearly
Move remaining funds to the next budget
Learn from your budget history
★ Sum Up Your Finances At A Glance
One, easy to understand view brings together most important information
Plan finances better with the friendly advice of Toshl monsters
★ Foreign Currencies
Easy to track spending while traveling
Enter expenses in any currency
Get daily exchange rates for more than 30 currencies
Set a custom exchange rate
★ Plan Your Financial Future & Learn From the Past
Plan your expenses in advance
Set up repeating expenses and get a feel for next month's fixed costs
Start your financial month on any day
Browse through any time period
★ Toshl.com
Manage your finances on the big screen
Your data is automatically backed up and saved
Private and secure
Visualize your finances with infographics
Sync with multiple phones
★ Keep It Safe and Private - Use a Passcode To Lock the App
★ Export Your Data
Export to CSV, PDF, XLS, Google Docs
Get automatic email reports
What the Media Say About Toshl Finance Pro:
"Now I know where my money is disappearing to, thanks to Toshl, a smart little smartphone app for multiple platforms. Super simple expenses input." — BBC "Toshl is simple to use and organizes expenses in a streamlined manner. If you use multiple smartphones running on a variety of platforms, you will really love Toshl." — The Next Web Without a shadow of a doubt, that is one of the best apps that I've yet had the pleasure to review. First 10/10 rating that AppCritic has given." — AppCritic
Toshl Apps are Available for ALL Major Mobile Platforms:
iPhone
Android
Nokia Symbian 3
Windows Phone
BlackBerry
MeeGo
Terms and Conditions:
30 day refund policy from the date of your purchase
Valid for one 1-year license and then will have the option to renew when the year is up
Terms
Unredeemed licenses can be returned for store credit within 30 days of purchase. Once your license is redeemed, all sales are final.