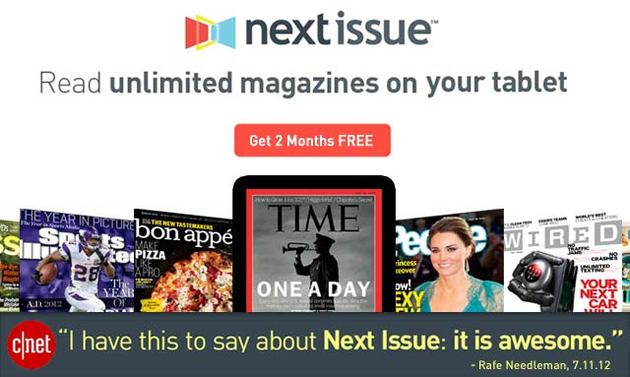 Get 100's of Free Magazines On Your iPad
Two Months of Unlimited Access To Next Issue!
Terms
Available to USA customers only.
Offer valid for new Next Issue customers only.
After the 2 month free trial promotional period, regular rates ($14.99 per month) apply to the Next Issue Unlimited Premium plan.
Credit card required for free 2 month trial. Please note, you'll automatically be charged upon completion of 2 month trial if you decide to keep your subscription.
Application works on iPads, Android tablets, and/or Windows 8 devices.
You may cancel online any time during the free trial and your card won't be charged.
Next Issue is not currently available on any Amazon Kindle or Barnes & Noble Nook tablets.
Additionally, magazines are delivered in standard resolution on all iPads.
Mobile (phone) devices are not supported at this time. A full list of compatible devices is available on the offer landing page.
Please note:
You're about to start a free 30-day trial to the Next Issue Unlimited Premium Plan. If you cancel within the 30-day trial period, you will not be charged. After the free trial period, you will be charged $0.00 per month (plus taxes where applicable) for the next 1 month of your subscription, then $14.99 thereafter. You may cancel this at any time.