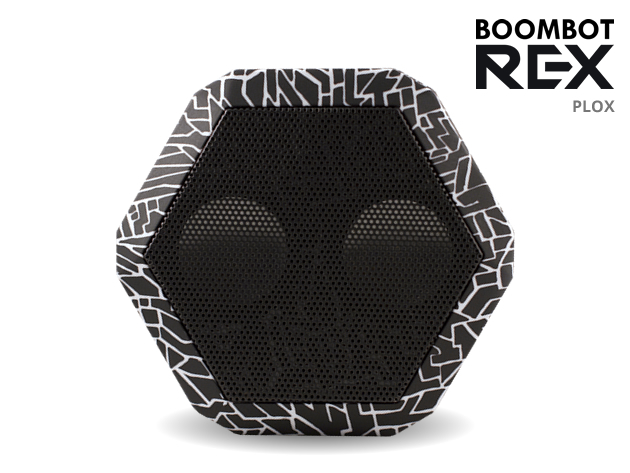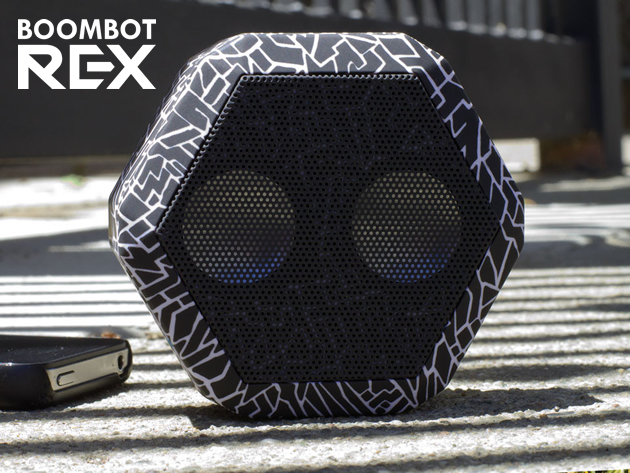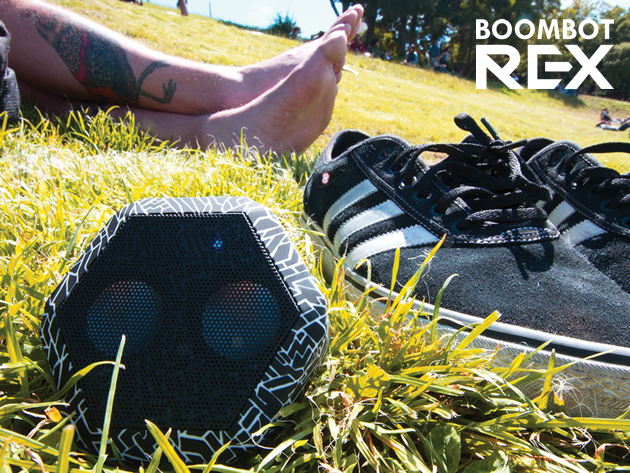 by Boombotix
A Tough & Stylish Bluetooth Speaker That You Can Take Anywhere
Description
Please note: Only available to customers in the continental United States. The sale price includes shipping and all sales are final.
THE GOODS
If you already have a *bluetooth speaker*, you know how great they are (assuming you own a Jawbone Jambox, Bose SoundLink, or the like). They're portable, sound fantastic, and you can take them (almost) anywhere. But *what about when the situation calls for something more durable?* Whether you're *camping, hiking, biking, skating, hitting the sand or hitting the slopes*, the Boombot REX powers through and keeps the beat going strong. With a *ruggedized ABS housing*, Boombot REX *goes anywhere*, but it also features *full fidelity stereo* sound, is *water resistant* and plays for up to *eight hours on a single charge* - it's *built tough* to withstand the demands of your *active lifestyle*. Using a *wireless bluetooth* connection, you can connect to iPods, smartphones, tablets and laptops to stream music or take calls and *bring music to where you enjoy it most*.
WHY WE LOVE IT
There's nothing better than being able to *enjoy music in the great outdoors*, and this tenacious little hexagon lets you do just that. Utilizing *dual 36mm drivers and a bass woofer* - this is *the world's smallest 2.1 sound system* - big things do come in small packages. They even went so far to install a *noise-canceling microphone* and a *built-in clip*, so you can attach the Boombot to your backpack, belt or handlebars (with a separate attachment). And with a bit of minimalist design, three buttons allow you to change tracks, volume, activate Siri, or answer calls all while you *keep your phone safely in your pocket*.
What is Plox?
Inspired by one of nature's toughest materials, alligator skin, this custom pattern was designed by Chris McKleroy - the company's VP of Product. With only *1000 pieces available worldwide*, it's a true *limited edition* you can grab for yourself.
TOP FEATURES
*Full Fidelity Stereo* - Dual 36mm drivers and a bass woofer for quality, well balanced audio output.
*Shock Resistant Housing* - A rubberized soft touch treatment on hard ABS housing for true durability.
*Water Resistant* - Can be worn in the rain or snow.
*Bass Woofer* - Maximizes low end frequency response without increasing power consumption.
*Rechargeable* - Medical grade rechargeable battery.
*Siri Integration* - Dedicated button allows you to connect to Siri.
*Handsfree Phone* - Pick up or reject your calls with the push of a button. Stay connected while doing what you love.
*Wireless Playback* - Bluetooth technology so you can take calls or stream music wirelessly.
THE PROOF
"The final factor that sets the Rex apart from the competition is the biggest one – It sounds good. It's easily on par with the Jambox, but not quite up to the Big Jambox...In all, I'm duly impressed with...the Boombot Rex. Great sound, a rock-solid design and customization make for a killer combination." -
The Next Web
"An active lifestyle is an oft-used marketing strategy, for electronics in particular. But the Rex actually is a good device for people who regularly expose themselves to the elements, it isn't just posturing as one." -
TechCrunch
"There isn't much that we didn't like about the Boombot Rex. Boasting great sound, an affordable price and good battery life, anyone looking for a portable Bluetooth speaker that's great for action sports would be remiss to not consider the Boombot Rex." -
TechRadar
"The Best Portable Speaker of 2013" -
Portable Speaker Reviews
COMPATIBILITY
Any device with a 1/8" inch standard headphone jack
iPod, iPhone, iPad, Android, MP3 players, laptops, CD Players, and more
Any Bluetooth-enabled phone or mobile device
IN THE BOX
One (1) Boombot REX Speaker - Plox Pattern
One (1) 3 foot micro USB charging cable - charges in about an hour and provides approximately 6-8 hours of playback time.
One (1) 3 foot auxiliary cable with 3.5mm jack
Terms
Sale price includes shipping - sale available in Continental US only
Coupon cannot be combined with any other offer or promotion
No refunds - all sales are final
Covered by a NO MATTER WHAT one-year warranty
Limited to 3 units per person