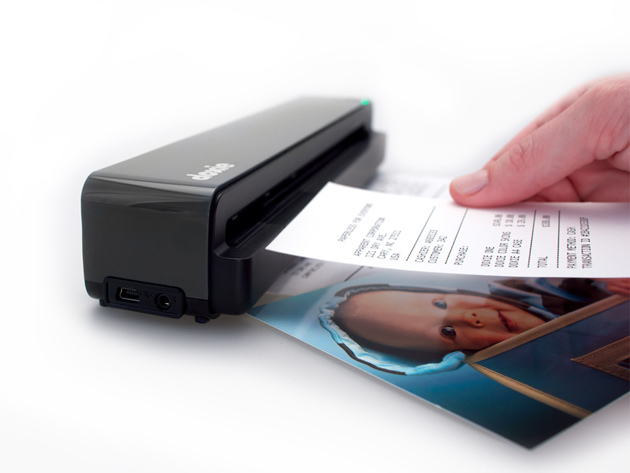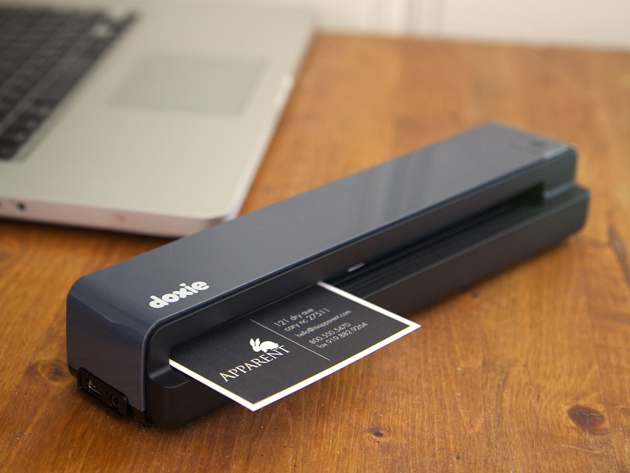 Doxie One: Scan Documents Anywhere, Anytime (US)
by Apparent
Finally Go Paperless – No Computer Required + Free Shipping
Description
GOING PAPERLESS HAS NEVER BEEN EASIER
"This scanner is so worth $150 it's not even funny." Well said,
Cult of Mac.
You'll be getting it for $99! Doxie One scans everything from bills and receipts to reports, drawings, recipes, notes, business cards, photos, and everything else – wherever you are, no computer required. And the best part? Doxie syncs to your Mac or PC and helps you organize scans, create searchable PDFs, and
send to the cloud
(Evernote or Dropbox) with a click. It's the ultimate, simple way to go paperless at stellar price (+ free shipping!)
WHY YOU'LL LOVE IT
Business owner? Stay-at-home mom? College student? Everyone needs a scanner these days, whether it's for daily use or the occasional random legal document, Doxie One is the quickest and easiest solution. Unlike other scanners, it doesn't need to be connected to a computer, so you can
use it anywhere.
Scans are stored on an SD card (included) - when you're ready to organize, simply upload the card to your Mac or PC. Doxie One also has a killer companion app to support you every step of the way.
TOP FEATURES
Scan Anywhere - No computer required + battery operated!
Fast - Scans full color sheets at 300 dpi in just 8 seconds
OCR + Searchable PDFs - Award-winning ABBYY® OCR technology recognizes the text in your documents, creating searchable PDFs
Memory Card Included - Included 2 GB SD memory card for storing scans
Doxie Software Included - Doxie app included creates JPEG, PNG, or searchable PDFs w/OCR, and saves to the cloud
Sync to All Your Devices + The Cloud - Including Dropbox, Acrobat, Evernote, Google Drive and more
THE PROOF
"This scanner is so worth $150 it's not funny. It's so fast and easy to use, and the software so well-suited to batching work, that I routinely scan every piece of paper that passes through my hands." -
Cult of Mac
"... the scanner will fit easily on just about any surface and won't add too much heft to a purse or messenger bag... It's a good thing too, because the Doxie One is designed to be used on-the-fly." -
PC World
"It'll likely be the first scanner you really use daily." - (9/10)
Mac.Appstorm
WHAT YOU'LL NEED
OS X 10.7 or later
Windows XP, Vista, 7, or Windows 8
PRODUCT SPECS
Dimensions - 10.5" x 1.7" x 2.2" (26.7 cm x 4.3 cm x 5.6 cm)
Weight - 13.6 ounces (386 grams)
Scan Speed - 8 seconds per page, or 5 seconds per photo
Full Color Images - @ 300 dpi
Scannable Document Size - Business card to A4 / U.S. Letter (8.5x11") sized sheets
IN THE BOX
Doxie® One
Doxie app with ABBYY® OCR technology
Quick Start Guide
2 GB SD memory card (2400 pages)
Worldwide power adapter (plugs for USA, Europe, UK, and Australia)
Add 4 AAA rechargeable batteries for portable use (batteries not included; rechargeable batteries required)
Photo scanning sleeve
USB cable
Cleaning and calibration kit
Terms
This sale is for US customers only. Click here for international orders.
Free Shipping included (all 50 states).
Please allow up to 2 weeks for delivery.
Limit 2 per customer.
All sales are final.