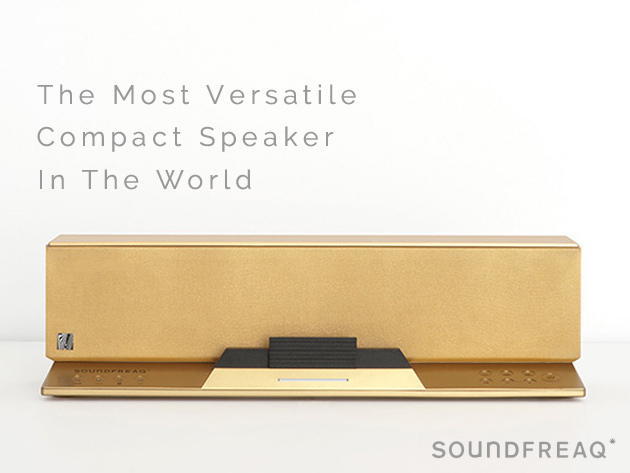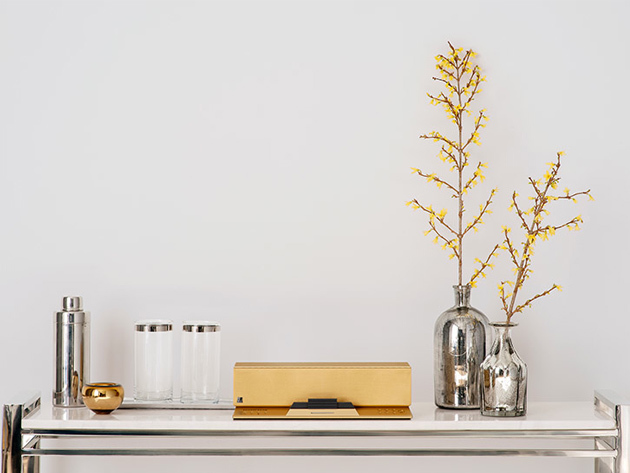 The Sound Step Speaker: Freaq n' Fabulous
by SOUNDFREAQ
Bring Amazing Sound And Design To Your World!
Description
Please note: Promotion is ONLY available to customers in the continental United States. Sale price includes free shipping.
FREAQN' GOLD SOUND
Freaq n' Fabulous is a re-envisioned version of Soundfreaq's highly-praised, compact Bluetooth speaker, the Sound Step. These special edition speakers, designed by artistic-duo Robert and Cortney Novogratz, combine unique design with Soundfreaq's award-winning line of Bluetooth speakers. This hi-fi speaker delivers crystal clear audio with it's signature sound profile, crafted for natural bass response and vocal clarity. It features a 2.1 speaker configuration with a dedicated sub-woofer and Soundfreaq's proprietary UQ3™ spatial sound enhancement, delivering natural bass and stereo separation. With its compact size, Sound Step fits perfectly around the office, in the kitchen, and on book shelves or night stands.
WHY WE LOVE IT
Compact Bluetooth speakers are one of the most useful electronic inventions since the MP3 player. Though smaller, more portable speakers are great on the go, they lack the power often needed around the house or the backyard. The Sound Step - Freaq n' Fabulous is the perfect combination of size, style, and power to cover all listening needs around the home, dorm, or office. Soundfreaq packed as many features as possible into a compact design, while still delivering excellent sound quality.
TOP FEATURES
Superior Sound Performance - Features a 2.1 speaker configuration for premium sound inside or out.
Four Ways to Play - Bluetooth wireless, 30-pin dock, line-in jack inputs, and an internal FM tuner to boot.
Charge A Second Device - USB charging port allows users to charge any USB-chargeable gadget including iPhone, iPad, Android, Blackberry and tablets.
Controls - Sound Step is built with on-board capacitive touch buttons to control playback directly from the speaker and also includes an IR remote.
For Lightning Devices
Soundfreaq offers a custom dock cover (free) that allows you to use Apple's 30-pin to Lightning adapter (not included) in order to charge your iPhone 5 on the dock. To order your FREE custom dock cover, click
CLICK HERE
.
THE PROOF
"It's hard to believe Soundfreaq's designers have managed to get so much clean, punchy sound out of a speaker that's so compact." -
Mashable
"The Novogratz' look makes these streaming players a unique addition to the room. And Soundfreaq technology means your ears enjoy sweet sounds." -
Coolest Gadgets
"The Novogratz Collection for Soundfreaq blends the company's sought-after line of wireless speakers with the couple's sharp eye for design. The result? Colorful, eclectic speakers that have great sound and standout style." -
CasaSugar
COMPATIBILITY
Charging Dock: All iOS Devices with 30 pin connector.
USB Charging: Any USB-connected device can charge through the USB port located on the back of the speaker.
Works with any bluetooth-compatible audio device.
Works with any audio device with a 3.5mm audio jack (AUX).
IN THE BOX
One (1) Sound Step - Freaq n' Fabulous
Terms
No refunds/returns
Promotion is ONLY available to customers in the continental United States & includes FREE SHIPPING
Please allow 1-2 weeks for shipping
Limit three (3) per customer